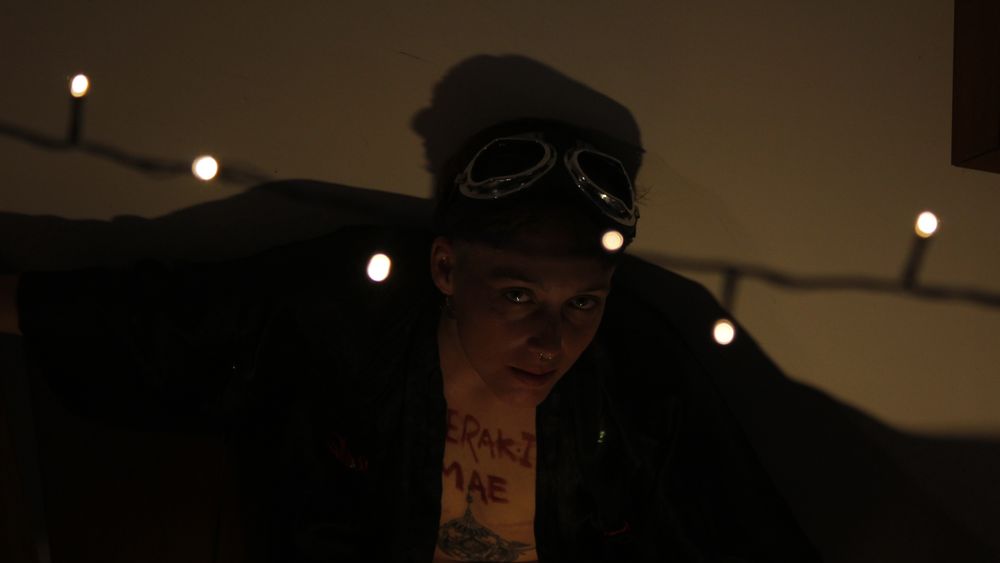 Meraki MUSIC
Eccentric pop meets folk, jazz, funk and soul; Meraki Mae will make you dance, sweat and sing along with their energetic live performance that captures every sense, from sight to sound.
Unashamedly Queer, Trans, non-binary singer, songwriter and performer, Meraki weaves a picture of activist sentiment with their powerful lyrics, punch melodies and delicious voice. Their music is charismatic, yet intimate; loud, yet soft; it tells stories of overcoming, becoming and unfolding all to the beat of your own drum.
from folk to funk and everything in between, Meraki Mae invites, delights and ignites.
Kicking off their career in Melbourne, Meraki has toured across Australia's east coast since 2017. In 2019 they 
relocated back to their hometown of Lismore, NSW where they have since played with notable Australian artists; 
William Crighton, Jeff Lang, Bronte Eve, Jex Lopez, Kodivine and Lucy Francesca Dron. Quickly, Mae became known as  the founder of 'By Candlelight Concerts', a successful local initiative to help provide work for marginalised regional 
artists during the Covid pandemic. 
In 2020 following the release of their debut single 'A Dog's Way Home' Meraki signed with Australian label 'The A&R 
Department' for the release of their second single 'Purple Flowers' which received national and international 
recognition with airtime on Triple J, PBS and ABC. 
In April of 2021 following the release of their third single 'Warrior' Meraki kicked off a 2 week tour across Victoria 
playing sold out shows at the 'Colour Club' and 'Open Studio' with local artists Gaia Scarf, Neeko, Pia Nesvara, Danny 
Ross and more, gaining recognition for their release in 'Beat Magazine'. Following this tour Meraki left for Alice Springs 
with RnB Artist Kodivine for a two week tour consisting of 4 sold out shows both with a band and solo. 
In early 2022 Meraki released their debut album 'Mother Dearest', however a full release tour was canceled due to 
NSW covid outbreaks in January 2022. 
Speaking on the album Meraki says: 
"It is a tribute, in many ways, to the Northern Rivers Arts scene. I worked hard to make sure I was playing with local musicians and working with local creatives ... In many ways, I consider my first album to be a postcard to the town I grew up in." 
Long anticipated, Meraki debut album had been two years in the making and featured many local collaborations, 
including performances by Tilly Jones, Arrangements by Liam Baillie and backing vocals by Kate Stroud and Jessica 
Johnson. The album became celebrated by the 'Northern Star', who claimed
"Recently, local bands have described Lismore music scene as sombre... but Meraki used their album to create opportunities for other musicians".
Local classical and jazz composer Tilly Jones spoke of the album fondly, stating;
"This album is like soup for the soul on a cold day, warming your heart...I can say with absolute confidence everyone will love this work of art." 

Now based in Lismore on the lands of the Widjabul Wiabul people the voice of their community is strongly seen in 
their work. Following the flooding of their hometown of Lismore in February of 2022 and the release of their album, 
Meraki is settling down to work on new and punchy material.
I pay respects and acknowledge the traditional custodians of the land in which I work and play, the Widjabul Wybal people of the Bundjalung nation. Australia's indigenous people were amongst the worlds first story tellers, songwriters and land carers and I recognise both the immense importance of their relationship with this country, and the ongoing oppression, perpetuated by government and social institutions, that aims to strips them of their rights and liberties. 
I stand with the Widjabul Wybal people, and all indigenous people, in the struggle to decolonise Australia and re-build a nation that both recognises its past and strives to have an inclusive future, centered around indigenous knowledge and teachings. I acknowledge that sovereignty was never seeded and pay respect to elders past, present and emerging. This land Always was, always will be, Aboriginal Land.